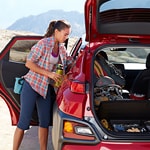 The Hyundai Kona from Deacon Jones Hyundai is uniquely designed to be good in high-pressure situations. Whether navigating a tight street in Goldsboro or stopping on a dime in heavy traffic, the Hyundai Kona has got what it takes to handle well and keep you and your passengers safe.
One way that the Kona can take on high-pressure situations is with its anti-lock braking system. The disc brakes on all four wheels are controlled by a computer to help prevent skidding when you apply heavy brake pressure. When you add this to the Kona's systems that are designed to help you avoid an accident, you can see why it's easy to have peace of mind when you're driving your Hyundai Kona.
Another great feature of the Kona is its tight turning radius. Thanks to its small size and advanced steering features, the Kona has a curb-to-curb turning diameter of only 34.8 feet. This ensures that you can easily perform U-turns or parallel park without breaking a sweat.