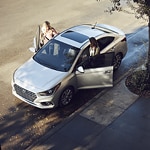 Shopping for a new vehicle doesn't have to be difficult. At Deacon Jones Hyundai, we recommend that you take a look at the Hyundai Accent if you're interested in something efficient, affordable and simple.
The Hyundai Accent is the most affordable model that is part of Hyundai's lineup. It's still a very well equipped vehicle that comes with plenty of interior convenience features and power, but you aren't spending thousands of extra dollars on a vehicle that simply has a larger footprint.
The Accent achieves fuel efficiency ratings of 33 miles per gallon for city driving and 41 miles per gallon on the highway. The fuel tank is 11.9 gallons in size, so you won't have to fill up too frequently. Excellent performance and power is thanks to a modestly sized 1.6 liter, in-line 4 engine that achieves 120 horsepower.