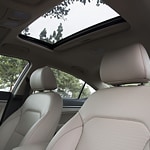 What do you look for when shopping for a car? Is it performance and power? Is it fuel economy, affordability and safety? Is it technology, or is it all of the above? If you fall into this category of wanting all these things, come to Deacon Jones Hyundai to check out the Hyundai Elantra, a popular compact car that offers something for everyone. There are several good reasons to buy a Hyundai Elantra.
The Hyundai Elantra is a very affordable car.
Drivers of the Elantra can expect excellent fuel economy.
Hyundai offers several great warranties on the Elantra.
The Hyundai Elantra is offered in several engine sizes and trim configurations.
The Hyundai Elantra is rated very highly among its competitors.
In addition to the reasons listed above, the Hyundai Elantra is a great car that performs excellently and is filled with the latest safety and technology features drivers and passengers seem to want today.